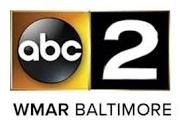 ABC 2 WMAR Baltimore (video)
Chanukah festivities kicked off in Baltimore
http://www.abc2news.com/lifestyle/holiday/a-30-foot-menorah-burns-downtown-to-celebrate-chanukah
BALTIMORE - A menorah parade leading to McKeldin Square kicked off the festivities Tuesday night.  More than 200 people gathered to enjoy music, dancing, and tasty treats.
"Tonight we have the first night of the holiday of Chanukah and we are celebrating with the giant menorah right here in downtown Baltimore," said Rabbi Shmuel Kaplan, the Regional Director for Chabad Lubavitch Movement.
Standing more then 30-feet tall, the menorah is the tallest in Maryland.  It's the history of Chanukah that gives the holiday its true meaning.  It marks the victory of the vastly outnumbered Israelis against the Greek army in the second century.  The holiday celebrates the miracle of oil that was only supposed to last for one night, but instead burned for 8.
"For me, it's just tradition, it's something I used to do when I was a little kid," Steven Senft said.  "I used to light up the menorah every single night and it's something that we need to keep on doing, it lights up the city of Baltimore."
"For me it's not really about the religion so much, it's just more about coming together with your friends and family," said Rachel Bloom.  "It's about the traditions and sitting around by the menorah and lighting and making latkes together and stuff."
Local leaders were on hand for the lighting ceremony, and when it was time to get the menorah burning, Governor Elect Larry Hogan helped make it happen.
"We want to encourage all of the Jewish community to come by and see the menorah and be inspired by it and bring it back into their homes and into their lives," Kaplan said.
They will continue to light the giant menorah for the next seven nights.  Chanukah ends next Wednesday.